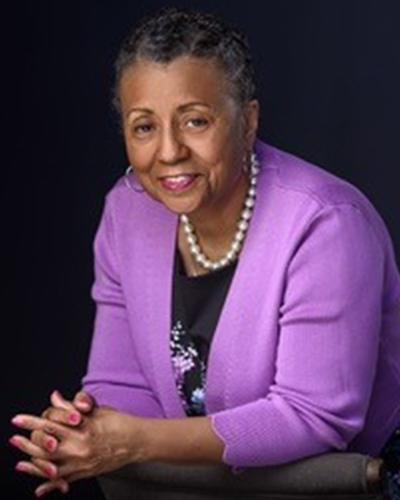 GWENDOLYN WHITE
Gwendolyn White is an Underwriting Manager and a Fellow for CEO Action for Racial Equity at ERIE Insurance, employed with the company for 37 years. Gwendolyn is a leader in service to our community with 12 years as a public member of the State Board of Dentistry.  She served on the board of Primary Health Care (Community Health Net) and as board chair for two years. She's past board chairperson of United Way of Erie County serving during a time of transition of the CPO, implementation of a strategic plan and reorganization. Gwendolyn served as chairperson for the Leadership Development and Diversity and Inclusion committees and is currently the chair of the Community Impact Committee. She also completed two board terms on the American Cancer Society—Erie Unit and served three years as board chairperson during a time of transition for the regional ACS. She is past board chairperson of the Mercy Center for Women.
Gwendolyn is a graduate of Leadership Erie and the Continuing Education Program for Leadership Erie, and was a founding board member of the R.B. Wiley Charter School and served as board chair where they raised the bar in public education and set a higher standard of means of reaching our children. As a member of the Erie County Convention Center Authority, she is the board chair and was actively involved with Workforce Inclusion Program during the construction of a $100million Bayfront project. She is a former member of the Non-Profit Partnership which co-sponsored Project Blueprint with United Way. She is the chairperson of the steering committee for the Erie Women's Fund under the Erie Community Foundation.  She served on the Advisory Board for Erie Community Foundation. Gwendolyn is a former member of the Community Funds Drive Committee which was responsible for reviewing and recommending capital campaigns for our community. She served as board chairperson of the Bayfront NATO, Inc., during the time of neighborhood revitalization.
Gwendolyn was actively involved with VisitErie, Arts Council of Erie, and SafeNet (Hospitality House) and many other organizations affecting the quality of life for others. She was a presidential advisor on the Erie Conference on Community Development. Gwendolyn served on the Mayoral Advisory Council that put forth several recommendations for the viability of our city. She was a member of the Insurance Women's Association. She is a member of the National African-American Insurance Association (NAAIA). She's worked hard to build trust internally and outside of the ERIE Insurance Group. She's professional in her demeanor and her behavior. As a member of the Edinboro University of Pennsylvania Foundation Board, she served as Governance Chair while assisting with strengthening the structure and efficiency of the board. She is the Governor's appointee to the PA Humanities Council, former Governance chair and is serving as Vice Chair. She is a Breast Cancer Survivor and an advocate for many women issues. She's dabbled with several local political campaigns as a campaign manager.
Gwendolyn has her Six Sigma Green Belt certification and Implementation & Lean Operations Champion Training. Her many honors include the Louis J. Tullio Community Service Award from the Regional Chamber and Growth Partnership and the Women Making History Award from the Mercy Center for Women. Gwendolyn received Pennsylvania's Best 50 Women in Business Award from the Pennsylvania Department of Community and Economic Development in conjunction with the business journals of Pennsylvania. The award recognizes significant contributions women make to Pennsylvania's economy. Gwendolyn was awarded the Martin Luther King Community Service Award from the Bayfront NATO Inc./MLK Center. Gwendolyn is an effective communicator who interacts with many different constituents across ERIE Insurance Group and the Erie community and can relate in a positive way with everyone. She is a certified Diversity and Inclusion facilitator for the ERIE Insurance Group. She is well respected. She is a mentor and a positive role model for many. She was honored with Community Matters Humanitarian Award. In 2021, Gwendolyn was awarded the Applause Award from the Erie Arts and Culture for her longstanding support and advocacy. She's a docent and a board member at the Erie Historical Society/Hagen History Center. She is a member of the Shiloh Baptist Church where she has served as church treasurer and trustee. She is very proud of her son, DeMoyne and her grandchildren, Delise, Riann, and Kaleb. Gwendolyn enjoys life, reading, traveling, photography, and genealogy.